Tractors "STANISLAV" from the manufacturer
PETERSBURG MACHINE-BUILDING PLANT is a manufacturer wheeled tractor equipment of 5-9 traction classes "STANISLAV" and various special-purpose equipment. Reliability and quality products, development strategy, value for money, as well as high maintainability of equipment and the possibility of its use in almost any climatic conditions, allows "Petersburg Machine-Building Plant" to successfully compete with world manufacturers of tractor equipment, not to mention the market of domestic producers.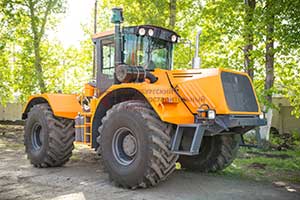 Our equipment participates in the preferential leasing program.
The high quality of the agricultural tractor "STANISLAV" is evident in all areas: productivity, operator comfort, uptime, cost operation and equipment, corresponding to the specific needs of the farm. This versatile tractor is designed for agricultural work with large load. Equipped with high-performance systems, it perfectly copes with soil cultivation, well aggregates with various crops complexes.